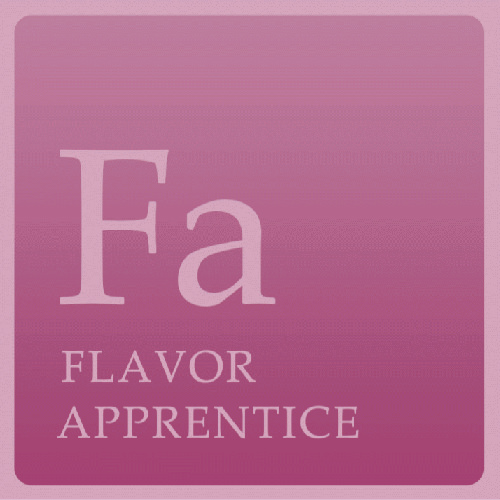 Water soluble.
This is a rich vanilla flavor that has no Acetoin, Acetyl Propionyl, or of course, Diacetyl. Instead it uses a lesser known custard note called Butyric Acid.
This is the ingredient that other flavor companies are now using to replace Acetoin and Acetyl Propionyl for flavors like Vanilla Custard, and we were asked to create similar substitutions. We want to stress that Butyric Acid can also be a source of irritation to the lungs.
It is still a custard note, but usually is only used in traces, as too much of it can give an unpleasant note to a flavor. Butyric Acid is found in milk, butter, and cheeses. In fact, Butyric Acid occurs at about 2.9% in butter.
Butyric Acid is a healthy addition to foods, and a good article about this can be found here:
http://www.livingthenourishedlife.com/2010/10/is-butter-healthy-part-one-butyric-acid
Ingredients: Natural and Artificial Flavors, Propylene Glycol, Ethyl Alcohol.
The Alchemists Cupboard are a UK distributor of The Flavour Apprentice (TFA) Concentrates made in the USA.
TFA is a division of the famous The Perfumer Apprentice (TPA) company, which since 2004 have produced various ranges of flavour concentrates for use in multiple industry's for a multitude of uses. This brand (TFA) has gained a lot of trust and admiration among vapers and DIY enthusiasts alike, all around the world.
These concentrates can generally be used from around 10-15% in the making of your liquids, but each favour has a different intensity, whereas some may need a touch more… some may need a touch or so less. The Flavour Apprentice (TFA) concentrates are food safe and they can also be used for baking, candys, sodas, or any other edible application.