Making your own DIY E-Liquid
For as long as vaping has been around, Vapers have been making their own E-Liquids. Why? Because it's super easy and with the advancements of One-Shots & Bottle shots, Making your own DIY E-Liquid can be as simple as adding only 3 or 4 ingredients together. It is also much cheaper than buying pre-made Vape liquids.
In this Blog, The Alchemist will do his best, to explain the differences between the many ways you can make your very own E-Liquid along with the pros and cons of Mixing your own E-Liquids. Many vapers have been to easily put off making their own Vape Juice, but if you can make a cup of tea, you can make your own E-Juice. It really is that simple and easy.
What are Bottle Shots and how do they work?
Recently, we introduced Bottle Shots into our Cupboard. These are possibly the most easiest format to start your DIY E-Liquid Mixing journey with. Our Deluxe Shots are available in two variations (250ml +500ml). These are Part-Filled bottles, that contain 50ml or 100ml of E-Liquid Concentrate. The part-filled bottle allows you to complete your mix within the same bottle. When mixed with your chosen ratio of PG – VG and Nicotine Shots, this will complete your DIY E-Liquid. This is the easiest way to start your mixing journey, as essentially the hard part of creating a delicious flavour has been done for you and you only have to add the desired VG, PG and Nicotine Shots into the bottle supplied.  
What are One Shots and how do they work? 
One Shots have been around for the best part of 7 years now. The Alchemist was one of the first, launching his very own Deluxe One Shots at Vapefest in 2015. Since then, we have developed a further 3 brands which are all hugely popular across UK & Europe today, with over 100 flavours made by us now available in this format.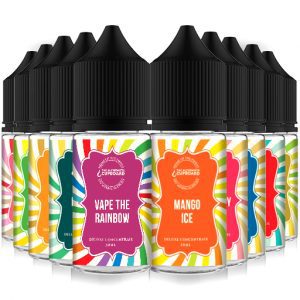 One Shot Concentrates are the second easiest way to mix your own DIY Vape Liquids. Most are supplied in 30ml Bottles, These are typically used at around 20% and will make you 150ml of E-Juice, when mixed with the other components. The difference being, with a One Shot Concentrate, is that you will need an additional empty bottle to then mix this, and your VG, PG and Nicotine Shots in to. Although these are available in DIY E-Liquid Mixing Kits where you will again receive everything you need, including the empty bottle. Recently, there has been a huge uptake by some of the premium E-Liquid Manufacturers, by releasing their flavours into this format. For example, Dinner Lady, Just Jam, Riot Squad, OHM Boy, IVG & Vampire Vape Concentrates are now all available in our Cupboard. This is again a very simple procedure, very much like a bottle shot it is a pre-designed flavour.
What about E-Liquid Flavour Concentrates?
E-Liquid Flavour Concentrates are another option. Possibly the most difficult to get right from the three options and one that is not recommended when its your first time Mixing E-Liquids.
When using E-Liquids Flavourings to make a desired flavour, the flavour combinations are endless.  You are not as restricted as you are with pre-designed flavours like One Shots, BUT, (and it is a big but), it is not as simple as a bit of this and a bit of that. It can take lots of work to find the perfect balance of flavours and understanding what works with or enhances a certain flavour. What proportions to use, what additives to use and more importantly what manufactures to use. Here at The Alchemists Cupboard we import the very best E-Liquid Flavourings  from all over the world, offering over 1000 flavours from across the globe. With the likes of Capella, TFA, Flavor West, Wonder Flavors the options are endless. It is a route that we recommend venturing into at least once, as it can be great fun and is hugely rewarding when you make 'the one'. As always, if we can assist in any way shape or form, you only ever have to email – admin@thealchemistscupboard.co.uk where we will be more than happy to help.
Why does Making DIY E-Liquids Appeal?
Buying Pre-mixed E-Liquids or Short-Fill E-Liquids will always be the preferred choice for the vast majority of Vapers. However, DIY has become much more accessible since the TPD regulations came into effect, along with the growing popularity of Sub OHM Vaping which consumes more liquid. DIY offers not only massive price reductions for the same flavour, just by mixing it yourself, but it also brings you a new hobby. Mixing a Bottle Shot takes literally only a few minutes, from this you will make 250ml of E-Liquid. All in, this will cost under £20. That's for everything! Compared to around £10 for a 50ml Short-Fill E-Liquid.  
 Why does DIY not appeal?
Steeping E-Liquids is essential, but is also a big turn off. Pre-made E-Liquids often have this taken care of. The time it has spent being made, bottled, packaged and then sent to shops before you purchase it, results in the Vape Liquid being steeped. Steeping (in the context we are interested in, i.e E-Liquids) is a process used to blend, age and mature an E-Liquid, to the point where the best flavour can be obtained from vaping it. The flavour develops over a period of time. This itself varies from flavour to flavour and more information can be found here.  https://thealchemistscupboard.co.uk/e-liquid-steeping-advice/ Extra bottles, syringes and Mixing vails along with a bit of mess (if you haven't got a steady hand) is also deemed a downside.
How Can we Help?
If you currently Vape any of the E-Liquids that we manufacture, Money Shot – Riff Raff – Biscuit Boss – or Deluxe/Classic. These are available in all 3 formats  E-Liquids – One Shots – Bottle Shots.  So the transition couldn't be easier! If you are interested in making the step across to DIY, contact a member of our team today, where will help direct and advise you on how to make the switch and start saving money today, without sacrificing quality of flavour or your favourite Vape liquid.